Bridge Academy Students continue to help the community
Congratulations to The Bridge Academy Class of 2020
https://princetonol.com/announcements/PRESS/congratulations-bridge-academy-class-of-2020
Investor's Bank Foundation Grant Aids Bridge Academy with Capital Campaign
https://www.myinvestorsbank.com/Community/Investors-Foundation/News/Investors_Bank%E2%80%99s_Foundation_Grant_Aids_Bridge_Acad
All students of The Bridge Academy graduate, prepare for college
https://centraljersey.com/2020/06/17/all-students-of-the-bridge-academy-graduate-prepare-for-college/

The Bridge Academy Graduates Ten
https://www.nj.com/times/2019/06/ten-graduate-from-bridge-academy.html
The Bridge Academy Receives Support from Investors Foundation and Roma Foundation
Download Press Release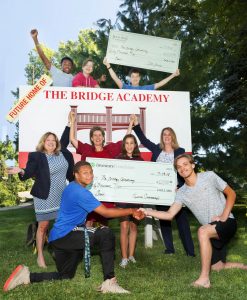 The Bridge Academy Receives $20,000 Donation from Munich Reinsurance America
Purchase the "Bridging The Gap Mathematics: symbolize Units and Apply Units".
The Bridge Academy has created a math curriculum designed specifically for students with learning disabilities. The curriculum adapts the Orton-Gillingham principles for teaching language arts for math instruction. It uses a multi-sensory approach, with a strong focus on language, and strategies for teaching "automaticity" of basic math facts (addition, subtraction, multiplication, division). The student workbooks are now available for purchase.
Download Order Form for Math Workbooks
Purchase Art Exercises Workbook
The Bridge Academy Art Exercises workbook provides teachers with a resource to help students practice the strokes of cursive handwriting in a creative, engaging format and see the practical applications in a form well accepted by the students. Sarah Bernotas developed the workbook to complement the handwriting strokes taught through the Orton Gillingham Approach used throughout The Bridge Academy. Since fluency in cursive handwriting continues to be cited through research as an asset for students in their writing, using drawing strokes to complement the cursive writing program achieves this balance and strengthens their motor connections.
Download Order Form Art Workbook
Videos about The Bridge Academy
Planning for the future. Drone view of the new home of The Bridge Academy
Watch this fabulous video that was created by one of our alumni.