Parents / Students
Click Here for Current Student Forms
The Bridge Academy Difference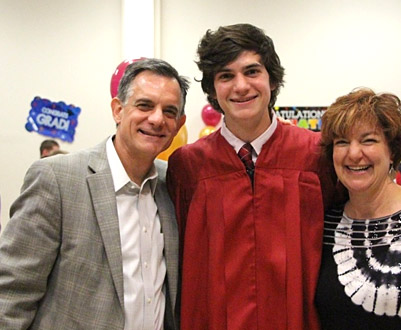 "The Bridge Academy has helped transform my son's once broken spirit and lack of self-confidence into a very proud, confident and responsible young student. The dedicated staff makes it possible to truly inspire a love for learning in all of its students."
-Bridge Parent
The Bridge Academy is a specialized school where students with language-based learning disabilities can find success academically, socially and emotionally. Our program provides a comprehensive educational program centered on individual learning styles and needs. Here are some examples of The Bridge Academy Difference:
We are a 501c3 nonprofit specialized school for students with language-based learning disabilities like dyslexia, auditory processing disorder, dysgraphia, dyscalculia, and ADHD.
The Bridge Academy is the only school in New Jersey and Pennsylvania that is accredited by the Academy of Orton-Gillingham Educators and Practitioners.
Our small class size of 3:1 student to teacher ratio in language arts, 4:1 student to teacher ratio in math.
We provide a small nurturing environment where students can relax, feel comfortable to take academic risks, and learn.
We provide a small nurturing environment where students can relax, feel comfortable to take academic risks, and learn.
Highly trained teachers demonstrated by their commitment, collegiality and depth of knowledge. 100% are certified in Orton-Gillingham instruction. /li>
Students have access to latest technology including laptops, SmartBoards, 3-D printer, IPad and Kindles.
Development of student leadership and character skills through our Social House Program.
Immersion via hands-on learning and experiential learning opportunities.
Incorporating all programs into one tuition, including speech, occupational therapy, and counseling needs.
Providing students with life skills of financial literacy, career and college orientation.
The Bridge Academy supports your family and your child beyond the school day and even beyond graduation.
What is a Learning Disability?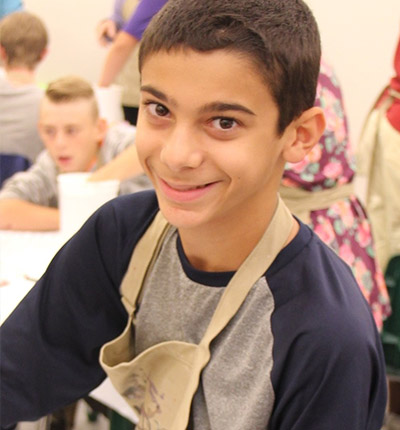 A learning disability is a neurological disorder. In simple terms, a learning disability results from a difference in the way a person's brain is "wired." Children with learning disabilities are as smart or smarter than their peers. But they may have difficulty reading, writing, spelling, reasoning, recalling and/or organizing information if left to figure things out by themselves or if taught in conventional ways.
A learning disability can't be cured or fixed; it is a lifelong issue. With the right support and intervention, however, children with learning disabilities can succeed in school and go on to successful, often distinguished careers later in life.
Parents can help children with learning disabilities achieve such success by encouraging their strengths, knowing their weaknesses, understanding the educational system, working with professionals and learning about strategies for dealing with specific difficulties.
Common learning disabilities
Dyslexia – a language-based disability in which a person has trouble understanding written words. It may also be referred to as reading disability or reading disorder.
Dyscalcula – a mathematical disability in which a person has a difficult time solving arithmetic problems and grasping math concepts.
Dysgraphia – a writing disability in which a person finds it hard to form letters or write within a defined space.
Auditory and Visual Processing Disorders – sensory disabilities in which a person has difficulty understanding language despite normal hearing and vision.
Nonverbal Learning Disabilities – a neurological disorder which originates in the right hemisphere of the brain, causing problems with visual-spatial, intuitive, organizational, evaluative and holistic processing functions.
Facts about learning disabilities*
Fifteen percent of the U.S. population, or one in seven Americans, has some type of learning disability, according to the National Institutes of Health.
Difficulty with basic reading and language skills are the most common learning disabilities. As many as 80% of students with learning disabilities have reading problems.
Learning disabilities often run in families.
Learning disabilities should not be confused with other disabilities such as mental retardation, autism, deafness, blindness, and behavioral disorders. None of these conditions are learning disabilities. In addition, they should not be confused with lack of educational opportunities like frequent changes of schools or attendance problems. Also, children who are learning English do not necessarily have a learning disability.
Attention disorders, such as Attention Deficit/Hyperactivity Disorder (ADHD) and learning disabilities often occur at the same time, but the two disorders are not the same.
* The above information comes from LD Online, a website on Learning Disabilities and ADHD. LD OnLine is an educational service of public television station WETA in Washington, D.C. For more information please go to: http://www.ldonline.org.
Links for Resources
Academy of Orton Gillingham Practitioners and Educators
https://www.ortonacademy.org/
Understanding and Overcoming Learning Disabilities/Dyslexia
(Article from the Disabled Travelers web site)
http://www.executiveclasstravelers.com/1/overcoming-learning-disabilities.htm
International Dyslexia Association
https://dyslexiaida.org/
Educators Guide to learning disabilities and ADHD
http://www.ldonline.org/
LD Resources is a collection of resources on various aspects of learning disabilities
http://www.ldresources.com/
ASAH is a not-for-profit organization of private schools and agencies in New Jersey which provide highly specialized services to more than 11,000 infants, children and young adults with disabilities.
https://www.asah.org/
Learning Disabilities Association of America
https://ldaamerica.org/
National Center for Learning Disabilities
https://www.ncld.org/
Wrightslaw is a website for accurate, reliable information about special education law, education law, and advocacy for children with disabilities.
http://www.wrightslaw.com/
Decoding Dyslexia of New Jersey – parent advocacy organization in New Jersey
http://decodingdyslexianj.org/
Forms for Current Students:
COVID-19 Information: