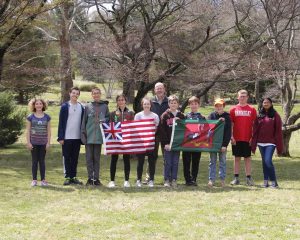 In a triumph of public and private historic preservation partnership, upon learning the new home for The Bridge Academy resides on the site of an historic Revolutionary War engagement during the Princeton Campaign of January 2-3, 1777, plans were immediately made to honor these hallowed grounds.
On Sunday, June 2, 2019 from 2:00-5:00 pm The Bridge Academy will unveil three historic markers telling the story of those desperate hours during which a handful of Continental soldiers, under the steadfast command of Col. Edward Hand, delayed the British and Hessian Army of Lt. Gen. Charles Cornwallis.
The public is invited to help The Bridge Academy honor and embrace their history, and learn about their future. The free celebration will include reenactors, musket firing demonstrations, snacks, crafts, games, and the unveiling of their new historic plaques. Historic sites and heritage partner organizations participating include Morven Museum and Garden, Princeton Cranbury Chapter of the New Jersey Society of the Sons of the American Revolution, TenCrucialDays.org, the Princeton Battlefield Society, Crossroads of the American Revolution, and the Lawrence Historical Society.
The event will take place at 1900 Lawrenceville Road, Lawrenceville, NJ. Free parking is available next door at Adath Israel at 1958 Lawrenceville Road. For additional information please call 609/844-0770.
Bridge to the American Revolution Flyer